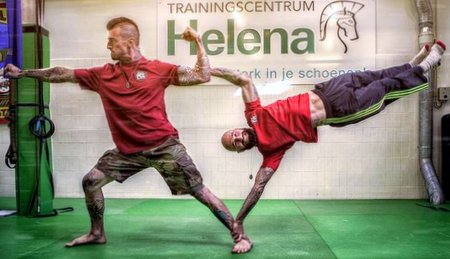 Dragon Door and Paul Wade present an opportunity for trainers and bodyweight exercise enthusiasts worldwide to plunge deep into the Convict Conditioning oeuvre, with the Progressive Calisthenics Certification Workshop—to both master the progressions personally and be qualified to teach them to others.
If there is a white-hot trend in fitness right now, it's bodyweight strength training. Athletes of all kinds are looking to the toughest, most brutally productive calisthenics techniques to spice up their workouts. We're talking one-arm push-ups, pistols, pull-ups, handstands and hanging levers!
Sadly there has been no international industry standard for bodyweight strength training instruction.
…until now.
Dragon Door introduces bodyweight strength authority, Al Kavadlo (CSCS, PCC Master Instructor), with Danny Kavadlo (PCC Master Instructor) to lead the PCC: Progressive Calisthenics Certification.