Explosive Athlete Training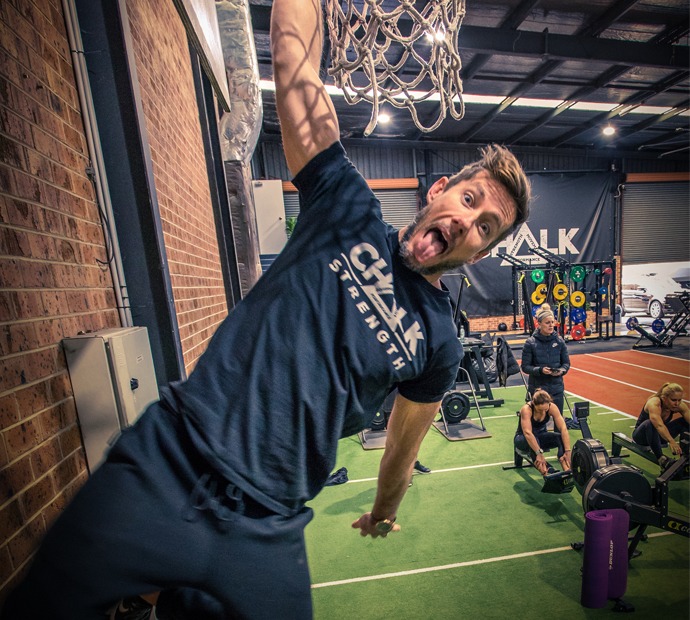 Yes!! Finally a gym that provides young athletes and sporting kids the training programs and facility to teach explosive strength, speed and agility.
Click here for more information on:
Explosive21
This program is designed for youth athletes aged 13+ who have a goal of playing high level sport. We work with all sports that require speed and power to be successful including Football, Rugby League, Netball, Basketball, Martial Arts, Track and Field and every other sport.
Knowing that these athletes all train very hard for their chosen sports, we focus on complementing their current training with specific exercises to improve strength, agility and speed. We also consider athlete training loads, competition schedules and the importance of recovery.
Training Programs Include:
Sprint Technique
We use drills that will allow the athlete to find and understand positions that can create more power as well as practice the timing of effort to ensure the hard work is actually making the athlete go faster in the right direction. (These techniques also may correct faults that could lead to injuries)
Explosive Starts
Teaching how to move fast over the first couple of steps is so important for athletes to learn early in their career. We do repeated drills that will turn into habits and eventually happen automatically on the field giving the athlete a great opportunity to be fist to the ball or position of advantage.
Strength and Power
We help create balanced strong athletes with the ability to move in any direction quickly. It is important that the athlete can use their whole body to create explosive power and we do this by ensuring they are strong in all foundational movements including push, pull, hinge, single leg, squat, carry and rotational. We also teach olympic lifts, challenge the body to put it all together which can be a skill that is often required when reaching elite teams.
Energy Systems
We engage strategies to supplement the athletes current training by including elements of fitness which will help the athlete gain an edge over their competitors.
Recovery
We implement strategies to supplement the athletes current training by including elements of fitness such as advice on nutrition, sleep and supplementation as well as have specific programs for fat loss and muscle gain for those athletes who require it.
Age: 15 years old
Sports: Australian Football League (AFL)
What you like about the Explosive21 training?
What I like about Explosive21 is that it really helps you work on what you feel you need to work on, whether I needed to work on speed,strength or mobility the really helped me improve.
Results/improvements since training at Clean Shred?
Since I started training at Cleanshred I have noticed massive improvements in my overall strength, mobility and speed.
What I would like to work more on is strength that will enable me to be even faster and that will help me jump higher.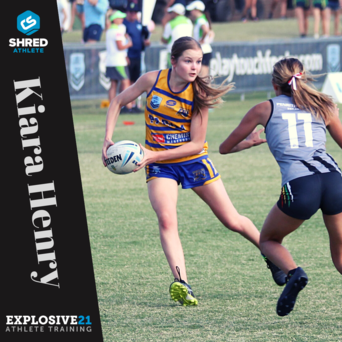 Age: 17 years old
Sports: Touch Footbal, Netball, Aerials and Sports Aerobics
What you like about the Explosive21 training?
Its lots of fun ans it helps us improve by targeting certain aspects of everyone's sport.
Results/improvements since training at Clean Shred?
I have become faster ans stronger while becoming more confident in my ability.
Club: Castle Hill Dolphins
How long have you been competing?
Competing since 10 years old
What do you love about your sport?
I love the racing and competitiveness of swimming as i have a competitive mentality.
What has Clean Shred helped you with?
The gym has helped me with flexibility in my muscles and my explosiveness off the blocks and the wall.
My goal to dominate:
Is to keep getting faster in my events and try to qualify for nationals.
Sport: Rugby League
Age: 15
Club: Rouse Hill Rhinos
Position: Full Back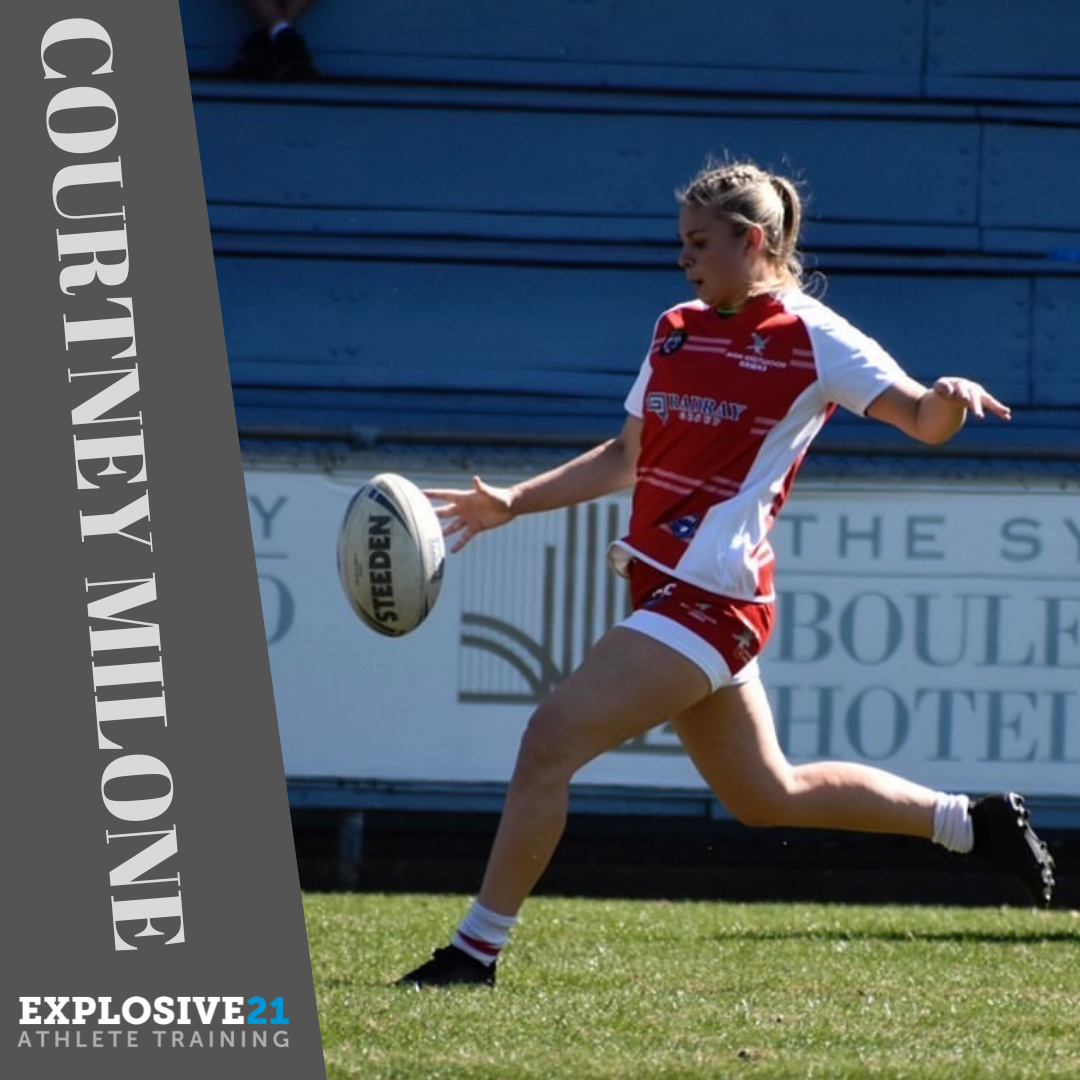 Club: Ryde Eastwood
Position: Half Back
Playing Years: 4years
What you love about the sport?
I love the friends i have met along the way through league.
What has Clean Shred has helped you with?
Cleanshred has worked on improving my running technique to prevent injuries and build speed/power.
Goals to dominate next season?
Become stronger.
Age: 16
Club: FNSW Institute
Position: Centre back and holding midfield
How long have you been playing?
Playing football since 6years old
What you love about it?
I love playing in a team environment, the skills involved and competitiveness of the game.
What Cleanshred has helped you with so far?
Improved sprinting technique explosiveness speed in the first 5m and faster overall.
Goals to dominate:
Powerful acceleration and speed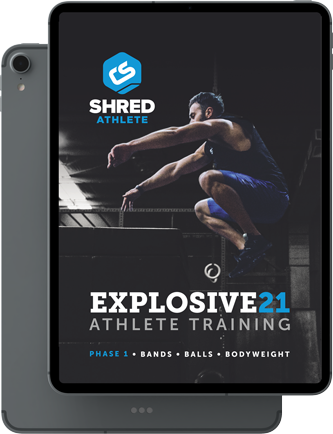 Download our
Explosive21 Athlete Training for free!
Junior Shred Athlete (8 – 12yr old)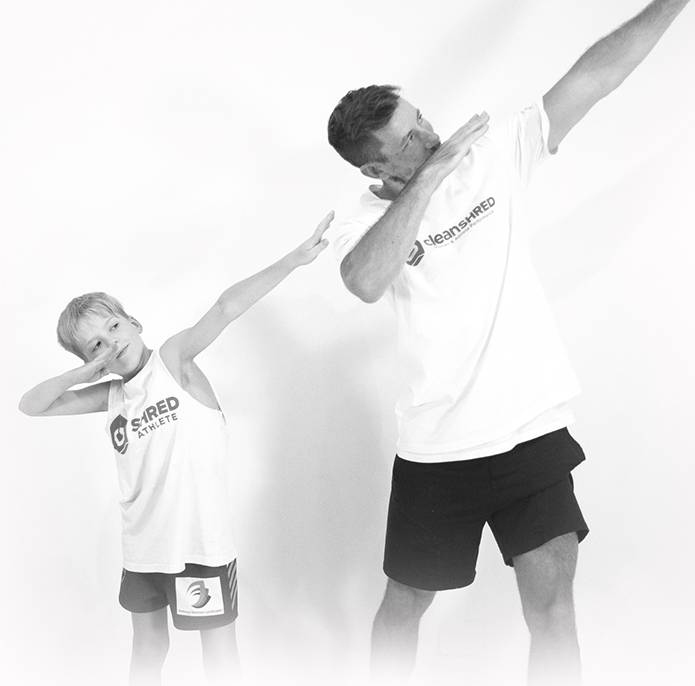 This program is designed to teach kids from 8-12 years old the foundations of movement. It is a mixture of Sprint training, Gymnastics Ninja Strength, Lifting Skills and Fun Fitness.
Sprint Training – Learning the basics of sprint techniques through drills and games to promote coordination and reaction time.
Gymnastics / Ninja Strength – Challenges the body to do the things young bodies are supposed to do. This includes body weight exercises such as handstands, Push ups, Pull ups, Squats and monkey Bars just to name a few.
Lifting Skills – We provide weight lifting training as light as possible. This can often be compared to a broom handle and almost always lighter than their school bag. Through these practice skills, Kids can have a well coordinated function with their body and sets them up for success in training when they get older.
Fun Fitness – We also provide Sports skills games mixed with gym fitness creates a fun way to get fitter and gain confidence to last a lifetime.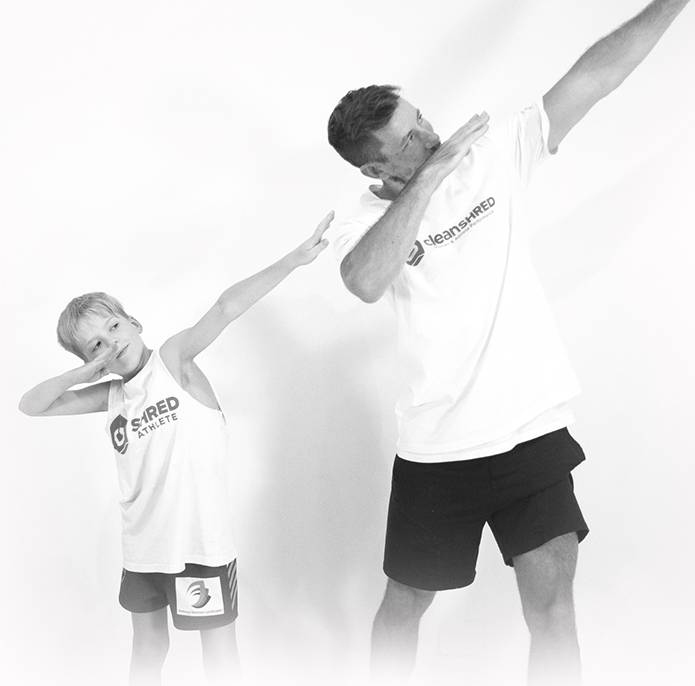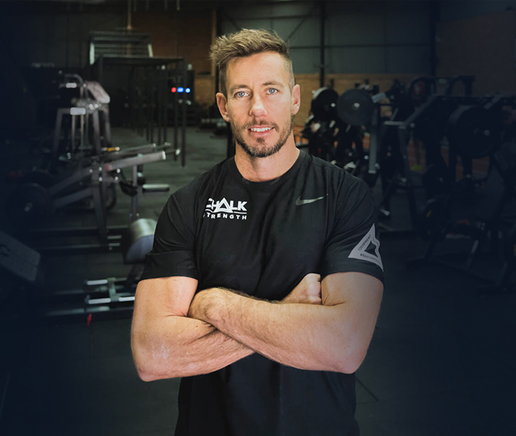 Simon Bungate (Director/ Coach)
Developed by coach
Simon Bungate
, Explosive21 training aims to give athletes from all ages the best chance of being their best. He was the coach to world champion athletes including Jana Pittman and Pro athletes from Rugby League, NFL, Football, AFL, Hockey, Track and Field. Simon's Career was inspired by his past experiences, that made him sick and lost his opportunity to have a successful NRL career. But he managed to become a fitness coach and has made it his life long passion.
According to Simon, "Success is measured by picking a goal, understanding what is required to reach that goal and most importantly showing the character of putting complete effort into everything you do whilst showing compassion to those around you. If you do this, then it doesn't actually matter if you make it or not but you have the knowledge and know how to apply yourself to any goal you have in life be that in sports, work, family or personal.
Now that's Success!
Simon is a very talented coach in strength, power and speed, Combine this with his nutrition and mobility skills provides a real edge over the competition. His gym coaching has assisted me to become the first ever Australian Female dual Olympian and i look forward to working with him towards my next goal.
Simon Bungate has worked with the Wests Tigers NYC team to improve their Strength, nutrition, mobility and speed. He is a highly knowledgeable strength and conditioning coach who can improve all aspects of the elite athletes performance.
Team training environment, the coaches are just amazing, and most importantly, the flexibility in the schedule. The fact that I can train as early as 5am or as late as 7:30pm is exactly what busy professionals need. The coaches are knowledgeable and well equipped to help you achieve your goals. They take a holistic approach to health and fitness which is awesome. Having trained in a conventional gym, all trainers want to do is sign you up for PT sessions and peddle a bunch of supplements. Not here. The coaches here truly care about you and want to come along on a journey towards your success. It's very refreshing. I have transformed my body, my mind, and my lifestyle since being with Clean Shred and look forward to continuing this journey.
Clean Shred, what an amazing place to be a part of. Outstanding coaches, awesome sessions and just an all round amazing environment to train in. It's hard not to give your training 110% when you are supported and surrounded by inspirational people. Love this place!
Clean Shred is our family gym. All my kids love the Athlete Development classes and have improved strength, speed and agility. My wife and I love the team training sessions with ongoing support to help us reach our goals. They provide great friendly trainers that encourage whilst always watching technique. I'm the fittest I've been in 20 years. Great gym for great results.
SIGN UP FOR A FREE TRIAL SESSION!